Carbs in Wild Blueberries: Guilt-free or Indulgent?
Wild blueberries are a guilt-free treat that are low in sugar and calories, packed with flavor and nutrients, and oh-so-versatile in the kitchen. If you're keen on healthy living, these fruits have just enough carbs to meet your daily requirements.
When you're on a diet, low carb or otherwise, you can't help but wonder how many grams of net carbs are in blueberries. If you're on a keto diet, the answer to that question is even more important.
Blueberries can have anywhere between 9-72 grams of net carbs, depending on their type and processing.
At LOOV Food, we know a thing or two about blueberries. Since 2008, we've made 100% organic Nordic berry products bursting with nutrition and flavor. Here's what over a decade of experience has taught us about carb counts in blueberries.
How Many Carbs Are In Blueberries?
To understand how many carbs are in blueberries, you first need to know that  carbohydrates in blueberries are classified into three categories:
Net carbs – digestible carbohydrates in the berry.
Fiber – carbohydrates in the berry that pass through your digestive system unchanged.
Total carbs – net carbs plus fiber.
With this, based on data from the U.S Department of Agriculture, below are the carb counts per 100 grams of blueberries:
| | | | |
| --- | --- | --- | --- |
| | Total Carbs | Fiber | Net Carbs |
| Raw blueberries | 14.5 grams | 2.4 grams | 12.1 grams |
| Dried blueberries | 80 grams | 7.5 grams | 72.5 grams |
| Raw wild blueberries | 12.3 grams | 2.6 grams | 9.7 grams |
| Frozen wild blueberries | 10.4 grams | 0 grams | 10.4 grams |
Are the Carbs In Blueberries Good For You?
Carbs are vital to your health. According to the Dietary Guidelines for Americans, these macronutrients should make up 45 to 65% of your total daily calories. For example, if you get 2000 calories a day, about 90-1300 should be carbohydrates.
Carbs in berries are good for you because they contain:
Starch – Your body takes longer to break down the starch in berries. The gradual digestion keeps your blood sugar levels stable and guarantees satiety — you'll feel full for longer.
Natural sugar – Your body processes all sugars the same way to give you energy. Yet, unlike artificially sweetened foods, berries with natural sugars also provide vitamins and minerals.
Fiber – Your body can't break down fiber, so most of it passes through the intestines undigested. However, fiber stimulates digestion and is vital for gut health. Additionally, carbs regulate blood sugar, lowers cholesterol, and keeps you feeling full longer.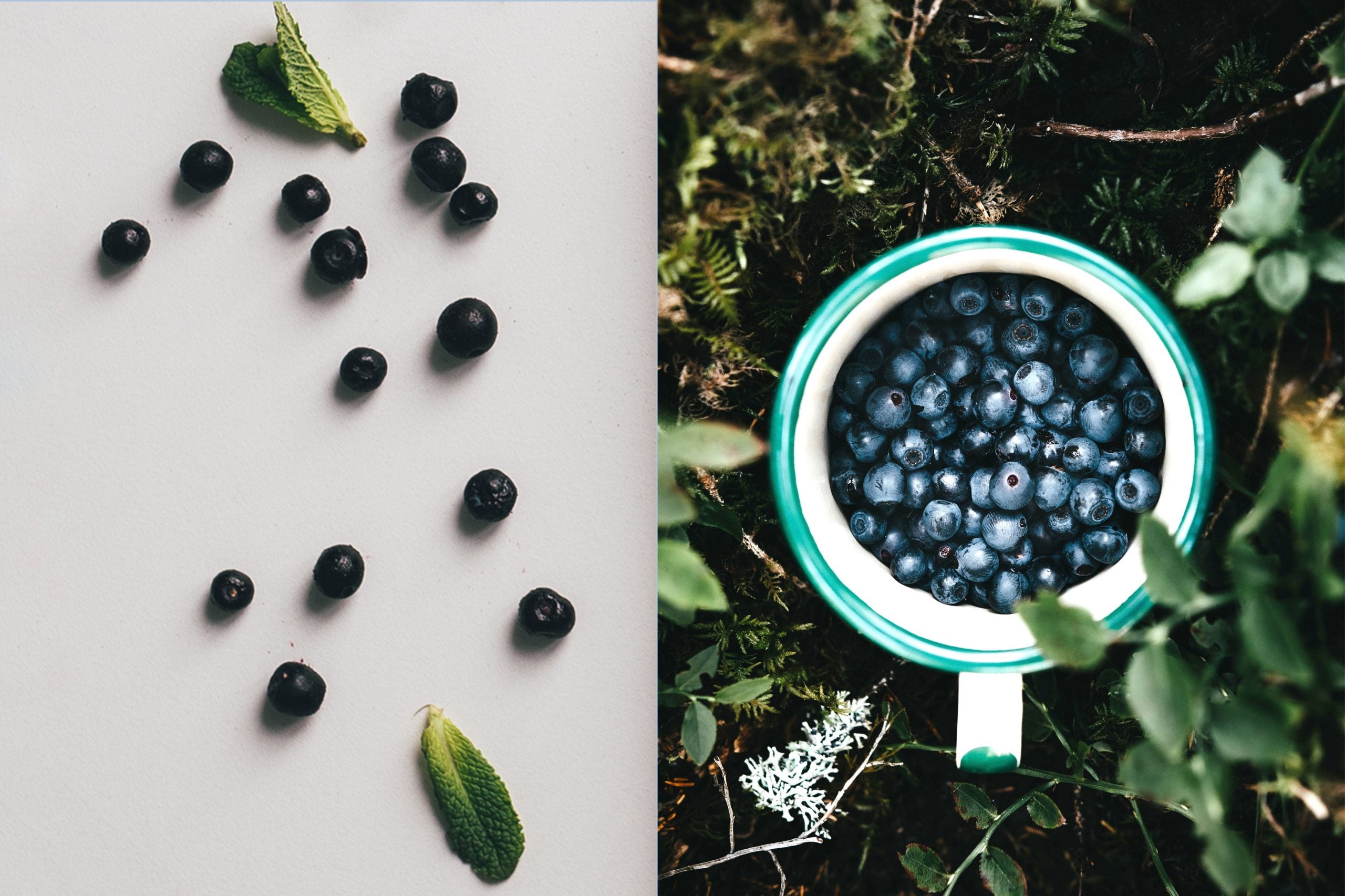 Can You Eat Blueberries on a Keto Diet?
The grams of net carbs you need daily in a keto diet depend on various factors, including your age, gender, medical condition, activity level, and weight.
Some people may want to cut their carb intake to promote weight loss. Others who have diabetes may do so to manage their blood sugar. Regardless of why you want to go on a low-carb diet, the net carbs per serving of blueberries will be of concern.
The Keto diet requires you to have less than 20 grams of net carbs per day. The moderate version of this diet allows up to 50 net grams of carbs, and the liberal version allows up to 100 net grams of carbs per day.
Raw blueberries can fit into a keto diet with a net carb count of 9.7-12.1 grams per 100 grams. However, they have twice the amount of carbs as raspberries, blackberries, and strawberries. So they should be consumed in moderation.
Sweetened and unsweetened dried blueberries are not suitable for a keto diet, however. They're full of sugar and carbs that will kick you out of ketosis, even if enjoyed in small portions.
You should also avoid canned berry products such as jams, jellies, and juice — they're artificially sweetened and have too many grams of net carbs to work on a low-carb diet.
Discover the Superfood That's Nordic Wild Blueberries
Blueberries are a superfood — packed with nutrients and antioxidants; they are beneficial for your heart, brain, and blood sugar. They're also delicious and work well in teas, smoothies, yogurt, oats, cakes, and other recipes.
However, some blueberries are more nutritious than others. The difference comes from the growing and harvesting conditions of this fruit.
Nordic wild blueberries grow in natural forests and are hand-picked. In comparison, American wild blueberries are commercially grown on wild stands and harvested using mechanical methods.
Although both types of berries are nutritious, several aspects of the Nordic fruit make it superior:
Rich, forest berry taste
Less sugar
Higher antioxidant level
Higher quantities of anthocyanin
More vitamins and minerals
Smaller ecological footprint
LOOV foods' nordic wild blueberries are an excellent addition to your diet, keto or not. They taste just like fresh berries and, because they're harvested at their peak and preserved, they're bursting with flavor.
Our customers attest to the freshness and great taste of our wild blueberries:
"Delicious wild blueberries. These tasteful wild blueberries, they go perfect with oatmeal"
For an even more guilt-free experience, you're welcome to try our other berry products that are low in net carbs and maybe a better fit for your low-carb diet:
Raspberry – with a net carb count of 5 grams per 100 grams of fruit, raspberries are the best berries to eat if you're on strict keto. They're vital for brainpower, heart health, digestion, and other vital body functions.
Lingonberry – with a net carb count of 9 grams per 100 grams of fruit, lingonberries are a great source of healthy fats. They're essential for weight management and blood sugar control, among other benefits.
Cranberry – with a net carb count of 12 grams per 100 grams of fruit, cranberries are immune boosters. They're also great for preventing certain types of cancer and urinary tract infections, among other benefits.
Like our blueberries, our other berry products are of the highest standard in flavor, taste, and freshness. Don't take our word for it, here's what our customers say:
"Tastes exactly like raspberries. I am pleasantly surprised by the taste of this powder!"
Go Guilt-free with Loov
While trying to eat healthily or stick to a low-carb diet, the last thing you need to do is worry about whether your fruit is as fresh and nutritious as it should be.
You want to be like Uschuppe, one of our clients who says:
"Well worth your money, key to your health. I absolutely love this product! I ordered this for The Advanced 3:6:9 Cleanse from Medical Medium Cleanse to Heal. After completing the cleanse, I've chosen to implement the eating habits I learned during the cleanse into my daily life. Wild blueberry powder is a key ingredient and I'm so gratefull for the overall excellence of this product."
Or Lorna.stracke who couldn't get enough:
"I ate these so fast because they were so good. Will buy again soon."
Luckily for you, we use one of the best methods of food preservation to ensure that you eat fruit that's got 97% of its original nutritional value. Our freeze-dried berries and powders have a long shelf life and all the goodness of fresh food.
Our products are eco-friendly — the hand-picked berries are grown, processed, and packaged ecologically to reduce our carbon and water footprint. Your healthy living won't come at the expense of the environment or your conscience when you go organic with LOOV foods.
Featured Image from: Pxhere